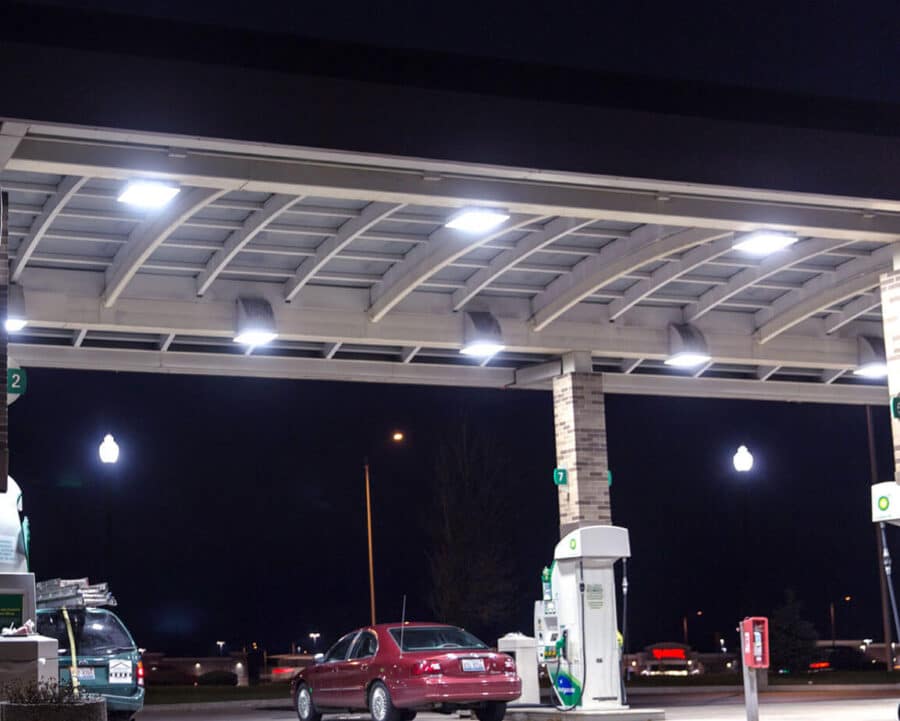 LED Lighting Solutions for Your Business
At Verde Solutions, we're committed to providing innovative, and energy-efficient LED lighting solutions.
We offer a comprehensive range of application-specific products that will help you reduce costs and improve the quality of your light for customers and employees.
What Verde Solutions Lighting Solutions Experts Can Do for Your Business
At Verde Solutions, we're committed to providing you with energy-efficient, sustainable, and durable LED lighting. To this end, our expert lighting solutions experts will walk you through finding the right lighting solution for your needs.
LED Lighting Basics
Sustainable energy and lighting solutions for commercial premises are hard to achieve without the help of lighting experts. Our LED lighting technicians consider these basics when choosing LED lighting for your business premises:
Durability: LEDs should last at least 50,000 hours (about 17 years of continuous use).
Energy-Efficiency: We use LEDs equal to 15% of traditional light bulb energy.
Cost-Effectiveness: We provide LED lighting that delivers an ROI in just months.
High-Functionality: LEDs are ideal for almost any application—from indoor and outdoor signs to parking lots. We customize your lighting for each area to reap maximum benefits.
Benefits of Upgrading Your Lighting
Some tangible benefits of upgrading your commercial lighting to LED lighting include:
Saves You Money on Electricity Costs
LED lighting solutions provide equivalent brightness to incandescent lights, CFLs, and halogens while using less electricity, saving electricity costs.
Increases Safety and Comfort
LED lighting is a great way to brighten up your office and create a safer space for your employees. They light up a room evenly, eliminating dark areas that could cause injury.
Increases Worker Productivity
LED lighting solutions brighten the workspace, increasing productivity and making workers happier. If you want to create a comfortable working environment and increase your company's productivity, install proper lighting with LED lights.
Offers Rebates and Incentives
Depending on the state in which you live, you may be able to get a rebate that's equal to 30% of the price of your new LED lights, making it an attractive and affordable choice.
Our Service Industries
At Verde Solutions, we are your go-to experts for effective LED lighting. We understand that each customer's needs are different. Our team works with you to create a custom solution that fits your budget and space requirements while providing the brightness and color temperature you need.
We offer the following LED lighting solutions:
Office Lighting
LED lighting from Verde Solutions reduces glare and increases the color-rendering index (CRI). This can make it easier for employees to work productively at their desks without squinting or straining their eyes.
Industrial Lighting
LED lights are a great way to improve lighting in your manufacturing or industrial facility. They can help reduce energy consumption and save money while improving workers' light quality and safety conditions.
Hospitality Lighting
We offer a wide range of LED solutions, including down lights, wall packs, cove lights, and floodlights for hotels and other hospitality institutions. These upgrades make your premises more inviting for guests, enhancing your brand while remaining cost-effective.
Healthcare Lighting
From surgical rooms to hospital wards, we offer durable and functional lighting solutions for your needs. Whether you need a simple bulb replacement or a more complex system, our team is here to help.
Educational Institutions Lighting
Upgraded LED lighting in your educational institution can help ensure higher quality light and output and improve teachers' and students' overall mood and security throughout the property.
Outdoor Lighting
LED lights are the safest way to illuminate your outdoor spaces. They're energy-efficient, have a longer lifespan, and provide more light than other types of lighting.
Parking Lot Lighting
Because LED lighting is so bright, it can help prevent car robberies and break-ins by helping security keep a better eye on parking lots. The bright illumination will deter potential thieves and burglars before they have time to steal anything.
Contact Verde Solutions for Expert Business Lighting Solutions Today
At Verde Solutions, we're committed to providing sustainable lighting solutions. We work hard to improve your workspace, making it a healthy and safe place for customers and employees.
We've been in the business of providing LED lighting for over 20 years, so we know what works and what doesn't. We specialize in customized commercial LED lighting and industrial LED lighting solutions that our expert technicians quickly and easily install.
Whether you need complete LED lights to overhaul your office building or warehouse's look or simply want to replace old fixtures with energy-saving alternatives, Verde Solutions will do the job right on time and on a budget.
Contact us today or call 800-541-1137 to schedule your free consultation for your business's innovative and energy-saving LED lighting solutions.