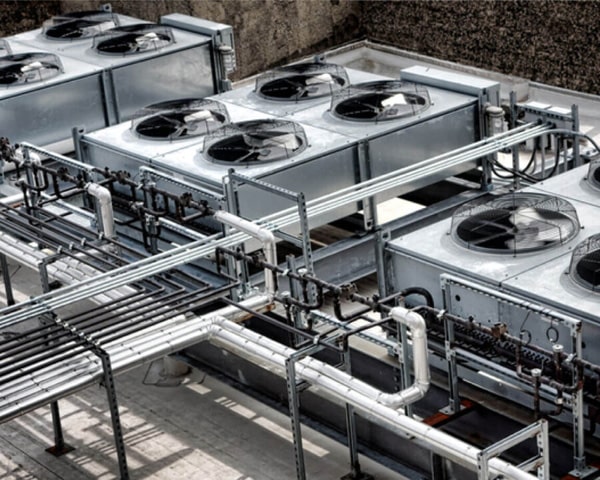 HVAC Engineering and Design Services
At Verde, we know that commercial HVAC systems are a vital part of your business, ensuring everything functions as efficiently and cost-effectively as possible.
At Verde Solutions, our expert HVAC contractors are proficient in building efficient and cost-effective HVAC systems that serve our customers for years to come.
We want to provide you with the most advanced HVAC service possible to help you realize your operational goals.
Contact us today to schedule a free audit and get your estimate.
Designing Efficient HVAC Systems
When looking for commercial HVAC companies, it's essential to consider the factors that will make your building more energy-efficient.
These include:
Ventilation: How much fresh air do you need in each space?
Heat recovery: Is there a way to reuse your units' heat to heat other areas?
Zone control: Does every room need its own thermostat?
Operations: Do you have an operations plan in place for your employees?
Our HVAC contractors can help you review these factors to ensure the best possible system for your space.
HVAC Engineering Needs
We endeavor to meet all of our clients' HVAC engineering needs. We guarantee the following with our HVAC systems:
Energy Efficiency
As professional HVAC contractors, we aim to reduce the load or duty for your system and improve efficiency. We also enhance the control and functional coordination of the system's components.
Cost-Effectiveness
We aim to deliver affordable yet highly functioning HVAC systems to help you meet your business goals. We offer a wide range of solutions for any size of business, from small businesses to large corporations, meeting various budgets.
Health and Safety
We know that your customers and employees rely on your business to keep them comfortable, and our HVAC systems are the best way to do that. They're safe, reliable, and meet all health and safety requirements for long-term comfort.
HVAC Engineering Management
Our HVAC engineers and project managers work hard to deliver your projects on time and within budget. When you choose us, you will benefit from the following:
Construction Administration
We understand that each client has different needs, so we take the time to understand what matters most to each one. That's why we offer unparalleled construction administration to ensure everything goes smoothly from start to finish.
Utility Filing
When building your HVAC system, filing for a utility patent with the United States Patent and Trademark Office (USPTO) is crucial. As an advanced HVAC company, Verde Solutions can take care of this for you and file your energy-efficiency claim with the Federal Trade Commission (FTC).
Engineering Report
We'll examine all aspects of your HVAC system and its components to ensure it runs efficiently and accurately. We also provide detailed engineering reports monitoring the same, guaranteeing you real value out of your investment.
Value Engineering
Our HVAC engineers are technically proficient in providing our clients with efficient HVAC designs and accurate energy cost calculations. We use the latest planning and modeling tools to ensure a functioning system.
Building Commissioning
As established HVAC contractors, we know that the most critical part of your project isn't just completing the job—it's ensuring your contractor completes a job correctly. We offer clients HVAC building commissioning services beyond the basics, ensuring your advanced heating and air conditioning system works correctly.
Benefits of Design-Build HVAC Services with Verde Solutions
Some of the primary benefits of choosing Verde Solutions as your preferred design-build HVAC contractor include:
Reduced Costs and Shorter Project Times
Design-build HVAC systems enable you to get the best of both worlds: a professional designer and builder. They work together to create custom solutions that efficiently meet your exact needs. This saves you significant time and money in the long run.
Regulatory Compliance
At Verde Solutions, we help you adhere to regulatory requirements and industry standards more easily. This can be especially helpful if you are in an area where these regulations are stricter than they might be in other places.
Guaranteed Quality Work
Our design-build HVAC systems deliver the best possible results for your project. Because these are custom solutions, you can consult our HVAC engineer, project managers, and construction team at multiple project stages to ensure we meet your quality, efficiency, and safety goals and needs.
Request a Free Audit from Verde Solutions
We know that when you're looking to install new HVAC systems, it's vital to find HVAC contractors willing to listen and understand your business needs and goals.
That's why at Verde Solutions, we provide free energy audits and design and installation consultations for advanced heating and cooling systems. We're confident that you'll rate us the best Commercial HVAC Contractors in your area once you speak with us.
Contact us or call 800-541-1137 to schedule an appointment.