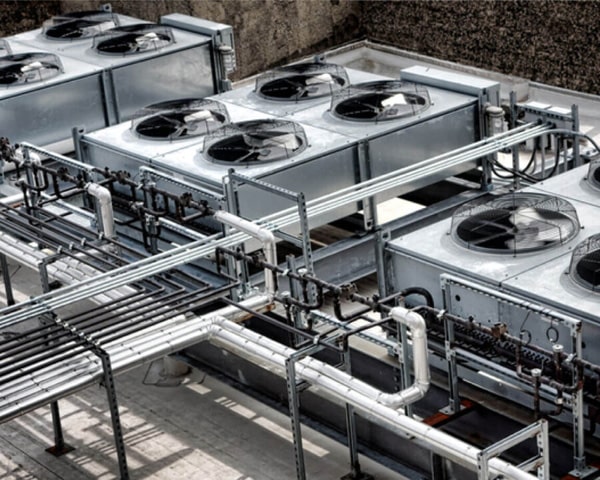 HVAC Engineering And Design Services
As a trusted leader in the industry, Verde Solutions understands the critical role that commercial HVAC systems play in optimizing efficiency and cost-effectiveness for businesses like yours.
Our team of expert HVAC contractors is dedicated to designing and building highly efficient HVAC systems that not only meet your operational goals but also provide long-lasting performance.
Contact us today to schedule a free audit and get your estimate.
Designing Energy-Efficient HVAC Systems
When choosing a commercial HVAC company, it's essential to prioritize factors that contribute to energy efficiency within your building.
Our HVAC contractors will work closely with you to address the following key considerations:
Ventilation

: Determining optimal fresh air requirements for each space & how is the indoor air quality.

Heat Recovery

: Exploring opportunities to reuse waste heat for heating purposes.

Zone Control

: Assessing the necessity of individual thermostats for every room.

Operations

: Developing an efficient operations plan for your employees.
By thoroughly reviewing these factors, we ensure the implementation of an HVAC system that maximizes energy efficiency while meeting your specific needs.
Meeting Your HVAC Engineering Needs
At Verde Solutions, we are committed to fulfilling all your HVAC engineering requirements. When you choose our HVAC systems, you can expect the following guarantees:
Energy Efficiency

: Our professional HVAC contractors strive to reduce system load and enhance efficiency by optimizing control and coordination among components.

Cost-Effectiveness

: We offer affordable HVAC solutions without compromising performance, catering to businesses of all sizes and budgets.

Health and Safety

: Our HVAC systems are designed to provide a safe, reliable, and comfortable environment, complying with all health and safety regulations.
Effective HVAC Engineering Management
With Verde Solutions, you can rely on our team of HVAC engineers and project managers to ensure seamless project execution within your timeline and budget. Our comprehensive HVAC engineering management services include:
Construction Administration

: Providing unparalleled support throughout the construction process to guarantee a smooth experience.

Utility Filing

: Assisting with filing utility patents and energy-efficiency claims with the relevant authorities.

Engineering Report

: Conducting detailed examinations and providing comprehensive engineering reports to optimize system performance.

Value Engineering

: Leveraging cutting-edge planning and modeling tools to deliver efficient designs and accurate energy cost calculations.

Building Commissioning

: Going beyond the basics, we offer HVAC building commissioning services to ensure the proper functioning of your advanced heating and air conditioning system.
Benefits of Design-Build HVAC Services with Verde Solutions
By choosing Verde Solutions as your HVAC contractor, you'll experience numerous advantages, including:
Reduced Costs and Shorter Project Times

: Our design-build approach combines the expertise of professional designers and builders, resulting in custom solutions that efficiently meet your specific needs, saving you time and money.

Regulatory Compliance

: We help you navigate regulatory requirements and industry standards, ensuring compliance, particularly in areas with stricter regulations.

Guaranteed Quality Work

: Our HVAC systems are tailored to deliver exceptional results. Through ongoing collaboration with our HVAC engineers, project managers, and construction team, we ensure that your quality, efficiency, and safety goals are met.
Request a Free Audit from Verde Solutions
Verde Solutions understands the importance of listening and understanding your unique business needs and goals when installing new HVAC systems.
Take advantage of our offer for a complimentary energy audit, along with design and HVAC installation consultations for advanced heating and cooling systems. We are confident that after speaking with us, you'll recognize Verde Solutions as the premier choice for commercial HVAC contractors in your area.
Contact us or call 800-541-1137 to schedule an appointment.