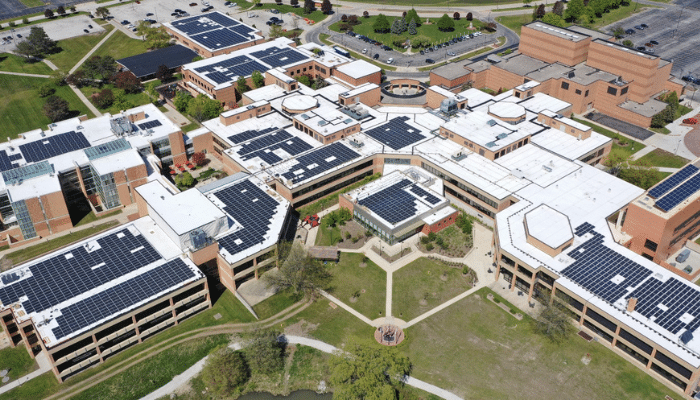 Businesses will face numerous challenges in 2023, including inflation, staffing issues, data security, and even supply chain shortages. Although electricity prices vary widely across the United States, they share a common trend. Electricity rates are increasing throughout much of the country, even as inflation eases. Due to high natural gas costs, electricity rates will likely stay high.
In Illinois, ComEd filed a record $1.5 billion in rate hikes over four years, starting in 2024. However, businesses installing solar energy systems enjoy relief from high energy bills and many other benefits.
Solar Power Reduces Commercial Energy Costs
A solar energy system can significantly reduce the amount of electricity a business pulls from the power grid, reducing supply charges or the total kilowatt-hours (kWh) or megawatt-hours (MWh) it consumes. In addition, solar panels provide a hedge against rising energy costs, so future rate hikes have much less impact. This helps make the business environment more certain, which is especially helpful because it has been so unpredictable in the last few years.
Also, demand charges cause many businesses to have high energy bills. Demand charges are a component of commercial electricity bills that correspond with the highest energy use periods and are usually assessed in short blocks of time, like 15 to 30 minutes. For businesses with energy consumption that peaks and dips during the day, demand charges can significantly inflate total energy bills.
However, many businesses cannot shift when they consume power, but solar electricity can often offset demand charges, especially when the periods of highest energy use are during daylight hours. Consuming solar electricity instead of grid power during high periods can shave down the peak by replacing it with solar power. The result is lower operating expenses for decades.
Commercial Solar Energy Systems Generate Positive Publicity
In addition to producing electricity, installing an on-site solar power system shows the company is using clean energy and reducing carbon emissions. This can even create free publicity through media coverage and content for marketing materials.
For example,  DHL Express has set a commitment to reduce its carbon emissions to net zero by 2050. Verde Solutions installed 1,440 solar modules for DHL Express on a 65,000-square-foot facility at Hartsfield-Jackson Atlanta International Airport. The commercial solar system is expected to generate 28,472,822 kWh of electricity over its 30-year lifespan and helped earn points towards LEED certification of the building.
"We need to reduce carbon emissions by using imaginative solutions available today," said John Pearson, CEO of DHL Express.
Verde Solutions provided a variety of services for the project, including utility applications, system design and engineering, permitting, equipment procurement, solar installation, and incentive filing.
Businesses Can Qualify for Federal Tax Credits & State Solar Incentives
The Investment Tax Credit (ITC) of 30% of the total solar system cost due to the  Inflation Reduction Act, which supercharged federal commercial solar incentives. In addition, there are state programs and Solar Renewable Energy Certificates (SRECS). In Illinois, the price of SRECs is especially high until May 2023 but will likely decrease afterward.
As energy rates increase, many businesses seek ways to lower electricity bills without sacrificing productivity. Although energy-efficiency improvements are helpful, they can only go so far. On-site commercial solar energy projects can significantly lower energy bills while allowing businesses to qualify for solar energy incentives and take advantage of positive publicity.
Verde Solutions offers numerous services to help businesses lower energy bills with clean energy, including lighting upgrades, commercial energy storage, and solar energy. We specialize in cost-effective green energy solutions that provide lasting benefits to the bottom line.